Currently, with the rapid development of global financial technology, blockchain technology has become widely-recognized new technology and new thought. It is irreversible trend to combine the traditional industry with the blockchain. Transaction and circulation of digital asset and price confirmation highly depend on the transaction platform as core carrier. However, most digital asset transaction platforms on the market severely restrict the industry development at present, such as expensive currency listing fees, incomplete asset security and insufficient stability, causing investors shrink back. It can be predicted that the present digital asset market urgently needs a safe, fair, efficient and stable transaction platform; Therefore, the TREX emerges.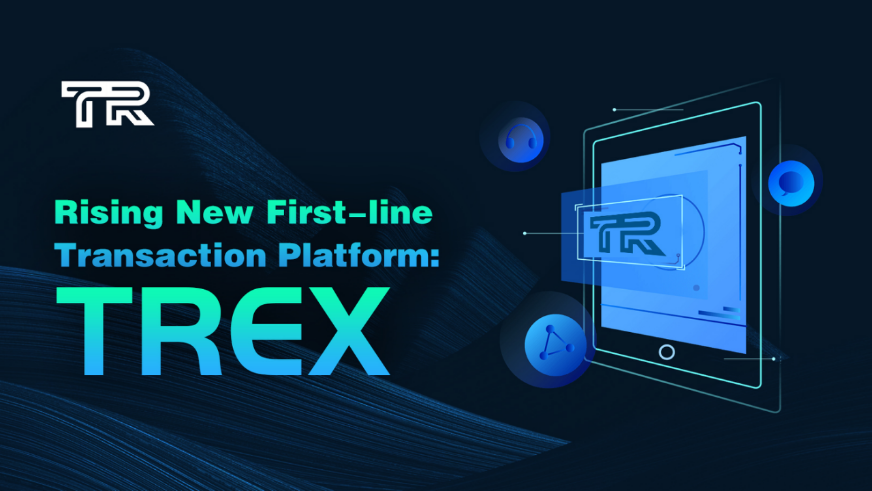 Statistically, there are about 188 digital currency exchanges in the world which can generate transaction amount. The digital asset transaction has been ceaseless for 7x24h in the world, with a market value of USD several hundred billion. The TREX's research team thinks the exchanges led by blockchain technology in 2021 will become an important watershed of industry.
TREX is building a digital asset transaction platform in the new era based on the blockchain technology to provide the latest technology and solution for the industry development. On the digital asset right circulation of TREX, both project parties and investors can enjoy one-stop service including token issuance, transaction, time deposit, investment, etc. All assets can conduct safe and efficient circulation on platform.
TREX's project team indicates that "powerful technology support is the foundation and the strongest impetus. Only the powerful technical strength can support and protect platform and can bring safe transaction experience to users to ensure the fund security". TREX owns the mature system structure and the most excellent acceleration node in the world. Besides, TREX is equipped with the core technology development team with independent intellectual property rights, so it owns strong strength and competitive strength. Team members are highly disciplined and devoted to providing customers with the return of investment higher than average level and the high-quality customer service.
In the future, TREX will proactively shoulder the mission to redefine the efficient circulation of digital asset, and solve the mixed messy situation on the current digital asset market based on high standard and high demand by utilizing the natural advantages of blockchain technology, so that every asset transaction can be safe and reliable, can't be tampered and can be traced in real time, and every project participant and contributor can harvest abundant value return. The TREX digital asset transaction platform can obtain comprehensive development with the help of others. TREX serves millions of users in the world and lets everyone enjoy the financial inclusion world. It provides users with safe and trustworthy digital asset transaction and asset management service to build diversified digital asset transaction platform which is convenient for the whole world. Let's remain to be seen!
Disclaimer: The views, suggestions, and opinions expressed here are the sole responsibility of the experts. No Opinion Bulletin journalist was involved in the writing and production of this article.